Our vets provide orthopedic surgery services for cats and dogs in Thomasville and the greater Davidson County area.
What is orthopedic surgery?
Orthopedic surgery for pets involves surgical procedures that focus on the joints, skeletal system and their associated soft tissues, including muscles, cartilage, tendons, and ligaments.
With our advanced imaging and diagnostic tools, we can provide an accurate and effective orthopedic diagnosis.
If you feel that your cat or dog may need orthopedic treatment, consult your vet.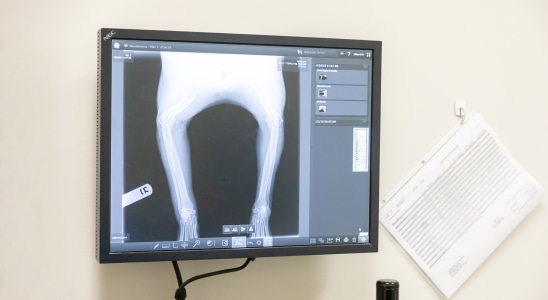 Common Orthopedic Surgical Procedures
Anterior Cruciate Ligament (ACL) Repair
Bone Pinning, Plating, and Kurschner Apparatus Repair
Shoulder and Elbow Abnormality Corrections
Luxating Patellar Repair
Your pet could need to remain in the hospital for 3 to 5 days depending on the procedure and how they are recovering.
During this time, we work with patients in the areas of physical therapy as well as pain management.
Common Orthopedic Conditions
The following are among the most common orthopedic conditions we find in cats and dogs:
Orthopedic surgical procedures are not very common and are quite labor-intensive. This also translates into a longer recovery time for the patient. Typically, our orthopedic surgical patients are treated on a case-by-case basis. We recommend a consultation with our doctor prior to any surgical procedures.